Historian. Born Sterling, Illinois, May 9, 1937. Beverly Hills High School, University of California, Berkeley, AB Modern French/European History; School of Oriental Studies, Univ of Durham, UK, Ph.D., French colonial history. Married, London, 1963, the Hon. Juliana Leslie Cotton Hill, divorced 1984. Moved to England 1984, and France 1990. Now live permanently in Piedmont, Italy.
Author of: LYAUTEY IN MOROCCO, PROTECTORATE ADMINISTRATION, 1912-1925 (UNIV. CALIFORNIA PRESS, BERKELEY, 1970); EMILE ZOLA, A LIFE (Henry Holt, 1988); TRAFALGAR, COUNTDOWN TO BATTLE, 1803-1805 (O.U.P. and Michael Joseph, 1989.1990); ONE HUNDRED DAYS, NAPOLEON'S ROAD TO WATERLOO (O.U.P. and Michael Joseph, 1992-1993); SURVEY OF NAZI AND PRO-NAZI GROUPS IN SWITZERLAND, 1930-1945 (Simon Wiesenthal Center, 1998);THE EAGLE AND THE RISING SUN, THE JAPANESE-AMERICAN WAR, 1941-1943 (WW Norton, 2004), THE SHADOW EMPEROR: BIOGRAPHY OF NAPOLEON III (St Martin's Press, 2018); THE CIVIL WAR BATTLE HISTORY OF THE U S NAVY, 1861-65 (2023, currently with a publisher).
Senior Fellow of the Royal Historical Society.
NAPOLEON BONAPARTE, A BIOGRPHY (Harper Collins, 1997)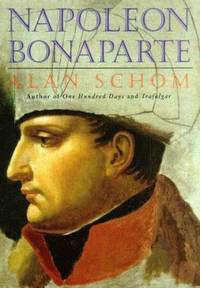 "Polished, scholarly and successful."
-Adam Gopnik, THE NEW YORKER, Nov. 24, 1997

"A rip-roaring yarn."
-Robert Gildea, THE NEW YORK TIMES

"Meticulously researched . . .[Schom] brillliantly presents Napoleon's life."
-Dan Wick, WASHINGTON POST

"[Schom's] book is bold in scope, and his salvoes devastating."
-Ed Voves, PHILADELPHIA ENQUIRER